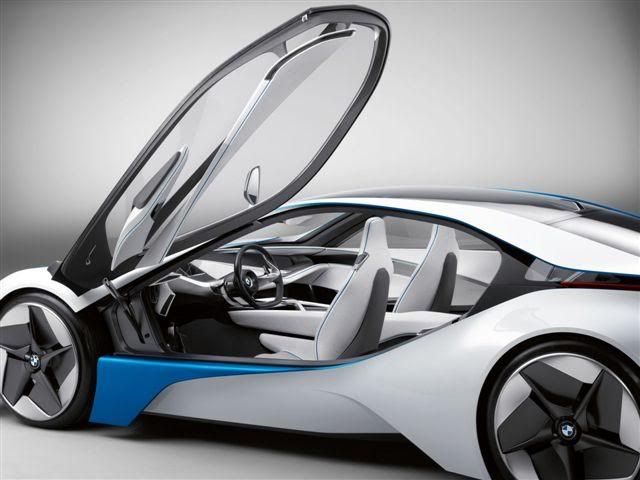 The BMW Vision
EffientDynamics is BMW's most innovative concept car ever and sets a new performance car agenda.
Its unique powertrain, ground-breaking performance potential and exo-skeletal style bodywork crafted from aerodynamic knowledge gained in Formula One set it apart from anything previously seen.
Powered by a three-cylinder turbo diesel engine and two electric motors, the BMW Vision EfficientDynamics is capable of BMW M3 performance but with a fraction of that model's C02 emissions and far greater fuel economy.
The striking concept car is showcased with a powertrain producing an anticipated 356hp and 800Nm of torque for true supercar performance. However, the vehicle has been designed to capable of recording 75.1mpg on the combined cycle and C02 emissions of 99g/km.
The vehicle's impressive performance figures improve further when it runs solely in hybrid mode. When taking the sources of electrical energy generation into account the C02 emissions of the BMW vision EfficientDynamics drop to a staggering 51/km.
The BMW Vision
EfficientDynamics highlights a number of technologies that will appear on BMWs of the near future. BMWs Air Curtain system that channels air through a front valance with the air exiting ahead of the front wheel is fitted. The Air Curtain system's exiting air flow effectively deflects air from entering the wheel arcg and causing turbulence thus improving all round performance.
The 1.5 litre theree-cylinder turbocharged diesel engine is another feature that indicates production potential. In isolation this new engine is capable of recording peak power of 163hp, a new record in terms of output per litre at 109hp, and peak torque of 290Nm.