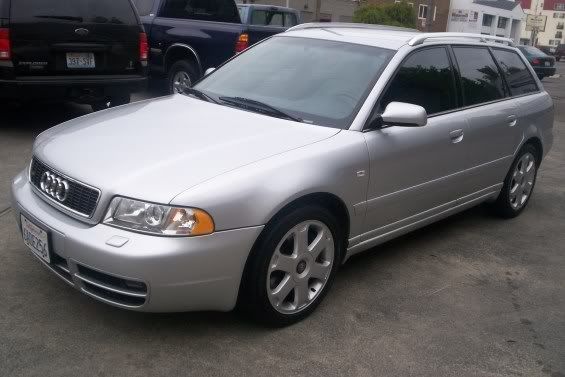 Sporty-level sedan lineup, the A4, was redesigned for last year, but the high-performance s4 variant remained unchanged for 2009. Audi took the new-and
-improved 2010 s4,
which arrives on dealer lots with the new-generation A4's styling and a powerful supercharged V-6 engine.
The 2010 Audi S4 sedan features styling that is very similiar to that of the latest-generation A4, and Motor Trend reviewers love the "fresh lines" on this single-trim model.
Overall styling changes are minor, and Road & Track points out that a "subtle front grille and rear decklid s4 badging..Are essentially the only tell-tales" that distinguish the s4.
Out back, sharp-eyed observers will also notice the quad-exhaust treatment, though overall Automobile Magazine agrees that the Audi S4 "look unexpectedly understated."
The one element that will turn heads, however, is the front headlight treatment; it gets Audi's characteristc "LED running lights," which Cars.com reviews say "are very good at grabbing the attention of oncoming motorists." Unlike the European version of the S4, which comes in two body styles, Cars.com reports that the 2010 Audi S4 is "offered only as a sedan and not an Avant wagon."
Subtle yet effective changes are evident throughout the interior of the 2010 Audi S4, according to reviews read by TheCarConnection.com. Motor Trend notices that "Audi has added sport seats with pull-out thigh support, a new instrument panel," and a choice of four different interior trim levels.
The overall layout wins praise as well, with Left Lane News reviewers mentioning that the Audi's "relatively logical controls" are "considerably more user-friendly than even the latest variant of BMW's iDrive."
ConsumerGuide reviewers love the control layout as well, reporting that the 2010 Audi S4's "gauges are clear and well-lit," although the "automatic climate system is a bit complex."
Source: www.thecarconnection.com