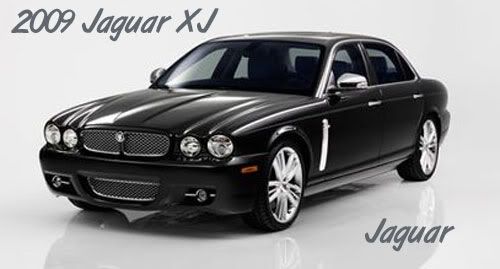 Jaguar has just unveiled its new XJ flagship to the public in a celebrity-filled extravaganza hosted by everyone's favorite car guy -- Jay Leno -- in London.
We got an embargoed sneak peek a bit ahead of time of the new Jag flagship, which is set to hit U.S shores this December, beginning from the top floor of one of those photogenic English manors in the suburbs of London you see in Victorian-period-piece movies.
This location allowed design chief lan Callum to show off the luxury sedan's plan view and thus its most controversial feature, its pianno-black trim. While piano black is almost a cliche on luxury-sedan dashboards, you don't find it outside..until now. The 2010 Jaguar XJ features a piece of the trim on the roof rails connecting the C-pillar to the other edge of the rear quarter-window.
The piano-black trim, which shows up only close up on metallic black or British Racing Green paint, stands out like a piece of protective-trim covering on virtually any other paint color...silver, for example.
An overhead view shows how it connects the side glass with the standard panoramic two-panel sunroof. Controversial styling extends to the tail and trunklid, which look more than a bit like those on italy's Lancia Thesis luxury sedan, though Jaguar insists it just takes getting used to.
You'll recognize the 2010 Jaguar XJ's nose as a more upright follow-up to last year's sensation, the XF. On the bigger XJ, which is about the same size as the more formal-looking sedan it replaces, the rectangular grille is even more resolved and the cat's-eye headlamps are even sleeker. As with the XF, there's no Leaper hood ornament, though it will be offered in North America, in case you're considering an aftermarket vinyl top as well.
"Surface tension" in the profile pays homage to Chris Bangle's "flame surfacing" as does just about everything new in the car business these days. While the roofline suggests a "four-door coupe" in the idiom of Mercedes' CLS-Class, rear-seat headroom, even with the standard two-panel sunroof, is quite good. The XJ is a bigger car than it looks. Jaguar worked hard on the sedan's aerodynamics, for high-speed stability and low wind noise and fuel effiency.
By Todd Lassa, www.motortrend.com