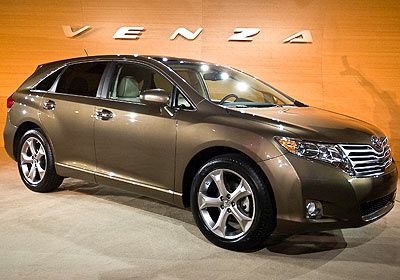 Click Video Crossover-ish: 2010 Honda Accord Crosstour vs. 2009 Toyota Venza from Youtube
The Toyota Venza and Honda Accord Crosstour are both the odd ducks of the auto industry. Are they crossovers? Are they SUVs or are they station wagons?
Or are they hybrid of all three? Suffice it to say that, despite what automotive analysts always say about Americans hating hatchbacks, it appears that the family sedan might be a design soon relegated to the history books. And there is good reason to see why people are so attracted to these new age stylistic hybrids.
Both the Venza and Crosstour are lower in ride height than your average SUV and this gives them a number of distinct advantages. For one it makes them easier to get into and out of for older people or the disabled. (Think about that aging baby boomers! Knees cargo floors are also lower to the ground making it easier for people like new moms and dads to load that gigantic stroller in the back without getting a hernia.
Even though the Venza and Crosstour are not as tall as most SUVs or crossovers their seating positions are still upright and thanks to tall ceiling architecture the seats are mounted high so you still get that commanding view of the road. All told, are the Venza and Crosstour the future of the automobile? And most importantly for new car buyers looking for a family vehicle, which one is better?
Toyota Venza
Basically a Camry wagon on steroids, the Venza at least has the benefit of a modicum of stylish flair. A unique chrome grille and tail-lamps aping the style of the old Volvo 850 wagon give the Venza a distinct character that is usually so lacking in Toyota products barring the Prius. The look is both muscular and well defined which marks a new design direction for the notably conservative Japanese brand.
Source: www.associatedcontent.com