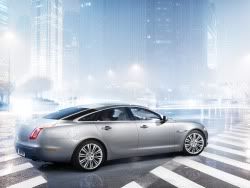 The sporty 2010 Jaguar XJ full-size luxury sedan growls with three powerful engine options and exudes luxury, thank to a long overdue redesign inside and out.
The XJ is Jaguar'r flagship sedan and available in four trim levels-base XJ, XJL (long wheelbase), Supercharged and the special-order Supersport. The XJ and XJL are powered by a 358-horsepower, 5.0-liter V-8, while the Supercharged and Supersport trims get a supercharged version of this same engine, only the Supercharged puts out 470 horses and can hit 0-60 in 4.9 seconds, while the Supersport tops that with 510 horses and a 4.7 0-60 time. Each option is mated to a six-speed automatic transmission with auto-manual mode and, according to the manufacturer, combined fuel economy ratings are 18-19 mpg.
Competing with Audi A8, BMW 7 Series, Lexus LS 460 and Mercedes-Benz S-Class in the full-size luxury sedan segment, the 2010 Jaguar XJ shifts from its distinguished four-headlight design in front to a more sculpted look with wraparound front headlights and vertical tail lamps. The 2010 Jaguar XJ features a lightweight aluminum body that is at least 300 pounds lighter than a traditional steel body and rests on 18- or 19-inch wheels, an air-spring suspensim and automatically controlled shock absorbers for a smoother, more comfortable ride.
The interior gets a more modern treatment with a panoramic glass roof, chrome surfaces and leather seats. Trunk volume is 15.2 cubic feet and the long-wheelbase version gets an extra five inches of backseat legroom. High-tech gadgetry includes an eight-inch touch-screen that display vehicle functions ranging from audio and video to navigation and climate control. A premium 1200-watt Bowers & Wilkins surround-sound system is standard on the Supercharged and Supersport models. Other amenities include hard drive-based audio and navigation systems and audio and video connectivity.
The 2010 Jaguar XJ is loaded with the latest in standard safety technologies, including antilock brakes. An electronic stability system and active front seat belts that tighten under heavy braking or aggressive cornering.
The Jaguar XL full-size luxury sedan gets a fresh, modern look for 2010, features better performance and a host of luxury/technology amenities.
Source: www.newcars.com