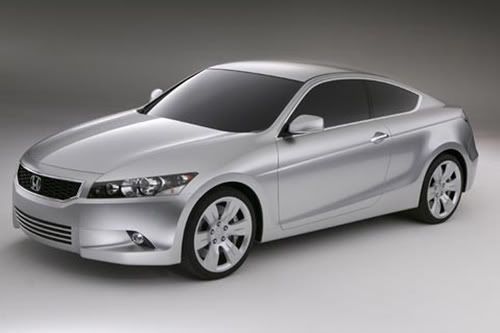 Although the Coupe and Sedan versions of the 2010 Honda Accord appeal to different types of buyers, they both have the more chiseled yet voluptuous look introduced the latest redesign of this model for 2008.
With styling that carries over virtually unchanged, both models still manage to look quite fashionable and contemporary for affordable, no-fuss transportation.
The 2010 Honda Accord has a softer, more conservative appeal than its coupe cousin, but it's still an attractive vehicle. Edmunds sings the Accord Sedan's praises, declaring its "eye-catching styling proves that reliable transportation doesn't have to be bland." According to Kelley Blue Book, "a bolder front end, deeper side sculpting and more pronounced fender flares give the all-ndw 2009 Honda Accord Sedan a crisper, more substantial look."
Cars.com describes the Accord Sedan as "a bit anonymous from certain angles," adding that it is "as assertive as the coupe when viewed head-on, but it loses some presence as you move around to the sides and rear." Car and Driver laments the loss of "the distinctive greenhouse shape and some of the edgy quality" that used to be shared with the coupe in previous, noting "Honda, obviously, remaims convinced sedans must offer a softer and gentler profile."
The Accord Coupe is definitely more of an attention-getter, and most reviewers take heed. Cars.com notes the Coupe's "chiseled look that's highlighted in front by a narrow mesh grille and bulging front fenders." Both Cars.com and Edmunds point out that the Coupe's hindquarters, with a distinctive kink in the C-pillar and taillights that wrap around the side of the body, are reminiscent of the BMW 5-Series.
Jalopnik is not as enthusiastic as other reviewers regarding the Coupe's exterior or interior esthetics, saying, "In places the 2009 Honda Accord Coupe is woefully bland, in others awkwardly edgy." While they claim that the interior is "positively posh," they're not too crazy about the grayish plastic dashboard and "cornucopia" of buttons, whicg are "awkwardly unintuive" and clash with the nice leather.
The interior of both models receives mixed reviews, with Cars.com asserting that the Accord's "faux aluminum trim has a nice matte finish, but its appereance is not very convincing," while Edmunds considers the "design...simple yet handsome." Motor Trend likes the look of the seamless matte finish and silver gray plastics in the Accord Coupe and sayst that "the new Accord's dash display are MacBook Pro all the way."
The reviewer also favors the Accord Coupe's cabin: "Homda has always done tight panels and high quality surfaces, but with the new Accord Coupe they've really outdone themselves." ConsumerGuide remarks that the wood-grain accents offered in some Accord sedanr "go a long way toward creating a warm, upscale ambiance, [but] some testers found models without woodgrain trim lacked character."
Source: www.thecarconnection.com