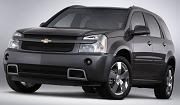 Chevrolet's sport utility vehicle named for the first day of spring had a rebirth this year, and the resulting 2010 Equinox is the best ever.
A crossover SUV that's based on a car-like chassis, the Equinox has stylish new looks, a refined ride, handsome interior and new, more fuel efficient engines.
The face borrows from the attractive front styling of the Chevy Malibu sedan and Chevy Traverse SUV. A two-tier grille and prominent hood, plus graceful side lines, create an attractive-looking SUV that makes even the Honda CR-V look a bit dowdy.
A compact SUV since it debuted im 2005, the Equinox also grew an inch here and there this year and looks on the outside larger and more substantial than before.
Best of all, the addition of a fuel-sipping four-cylinder engine gives it a better fuel economy rating-22 miles per gallon in city driving and 32 mpg on the highway-than the top-selling Toyota RAV4 and the CR-V.
Starting manufacturer's suggested retail price, including destination charge, of $23, 185 is lower than last year because of the smaller, base engine. But it's a tad higher than the starting retail prices for the new CR-V, at $22,255, and the new RAV4, at $22,300. All prices are for base models with four-cylinder engines, automatic transmissions and two-wheel drive.
The lowest-priced, 2010 Equinox with all-whell drive starts at $24,935.
The interior is new, with nicely styled center stack of controls, comfortable seats and ice blue ambient lighting. Sure, there's a lot of hard plastic in there but fit and finish on the tester were excellent, and controls were ergonomically designed and easy to operate.
The ride was what impressed me most. Compared with the clumsy-feeling suspension of the old Equinox, the ride in the new model is downright refined.
The suspension-independent front struts and independent four link at the back-managed road bumps well, with just a few ba-boom sounds on rough stuff.
Source: http://abcnews.go.com