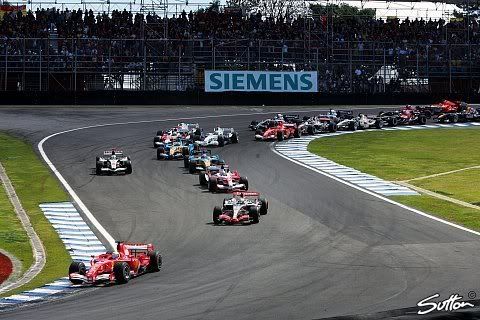 Sebastian Vettel admits his title chances rest on Red Bull doing the bert possible job in the last two races of the season whilst hoping rivals Brawn GP slip up.
The German heads into Sunday's Brazilian Grand Prix as the man in form having scored a dominant victory last time out in japan.
Even so, his success at Suzuka means the 22-year-old still stands 16 points behind championship leader Jenson Button, with the latter's Brawn GP team-mate, Ruben's Barrichelo, now two points ahead.
Speaking in Tsurday's press conference at Interlagos, Vattel's suggestion that both Button and Barrichello are under greater presure fell on deaf ears - the Englishman rejecting the notion.
However, with a difficult - but not insurmountable - gap to make up. The 22-year-old knows that his only chance hinges on securiting victories four and five of the season.
"For me it is pretty straightforward - the only thing I can do is win," Vettel said.
"You don't have to be a genius to work out from now on we simply have to win the two races and hope the other two mess it up, so the pressure is on them.
"It is a good thing not to have the situation they are facing. They have to race each other."
Strong showing
Vattel said he anticipated another strong showing in Brazil given the fact his car has shown well in both the last two races - Singapore and Japan also being very different in terms of layout.
He finished fourth in the former race, albeit having run as high as second prior to picking up a penalty for speeding in the pitlane.
"The last two races have been very good for us," he assessed.
"We had a very good package for Singapore, which should have been a bit better.
"But it is in the past now and I am just hoping I don't miss those three points in the end. We will see.
"Obviously Japan was fantastic. The car was great all weekend, so if you look at the last two races, we've been very competitive even though the circuits are very different to each other.
"For here we have another couple of things in the bag, so it sould be good."
Singapore was another case of 'what might have been' for Vattel, who has failed to finish a total of five races this season.
In contrast, both Button and Barrichelo have only retired once - a fact their rival is trying his best to ignore.
Vattel said: "It doesn't help. It's done.
"We cannot change it now, so there is nothing to regret. It's still a good season for us, the best one have had.
"We have to be very positive. Anything is possible."
source: www.skysports.com