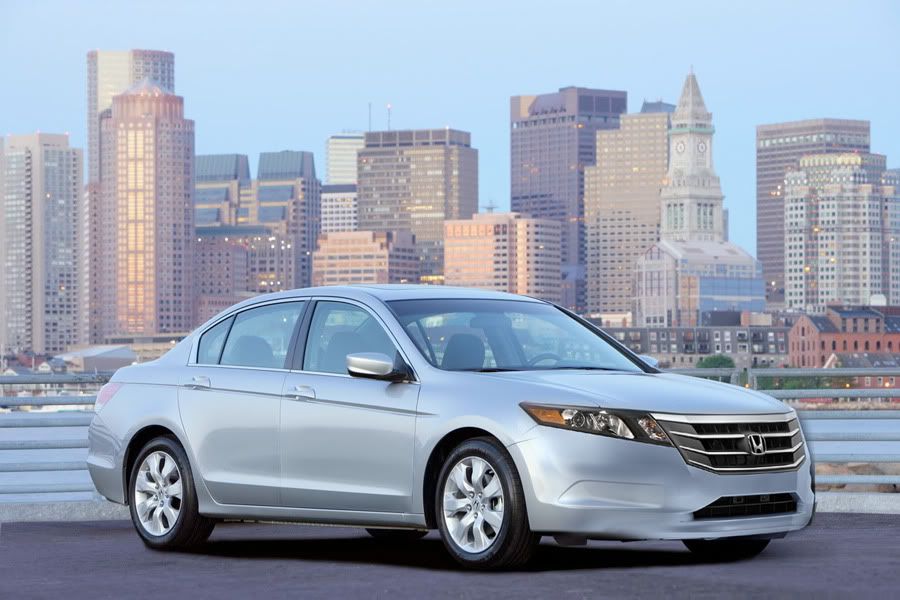 Honda Accord car dynamic for customers, convenient in US. A recent series of car version of the Accord will be present in the American market.
Last November, we spied a tall, widened Honda Accord mule that used the front end the U.S. Accord and the body of the European Accord Tourer wagon to cover an all-new, Toyota Venza fighting crossover.
Now, thanks to a snap-happy Tennessee tourist, we bring you the final product.
Expected to be called Crosstour, it is seen here covered only by a front-end mask and some bits oe tape that actually show more than they cover. (Note to Honda: Don't take your top-secret development cars to the same places that attract camera-totin' tourist.)
As seen on this prototype, the CUV's front end will clearly be similiar to that of the four-door Accord, although we can tell there has been some butching-up of the graphic elements beneath the thick tarps.
A side swoosh similiar to the Accord sedan's passes through door handles borrowed from that model.
Where the Crosstour really goes its own way, however, is aft of the B-pillar, where the window line rises to point and the rear end slopes down to form a hatchback.
The shape of the rear end appears to have necessitated the addition of a second, Insight-esque lower rear window to salvage some outward vision.
Under the skin, we expect the Crosstour to be a mix of Accord and Accord-based Pilot mechanicals, with all-wheel-drive models using a version of the system found in Honda's SUVs.
Engine choices will likely include a four-cylinder engine with at least 200 hp (possibly turbocharged) and a 3.5-liter V-6.
What strikes us most about these shots is just how closely the new CUV's slant-back profile resembles that of Acura's polarizing ZDZ crossover, which itself is a distant cousin of the Accord.
The sloping deck will both restrict cargo space somewhat compared with traditional crossover and invite plenty of controversy-a surprising dare-to-be-different
approach that is noteworthy from conservative Honda, especially given the American aversion to hatchbacks.
Princing will likely start at about $25K, with well-appointed models reaching into the mid- to high-thirties. We expect the Crosstour to go on sale late this year as a 2010 model.